Joblin C. Younger, Esq., LL.M.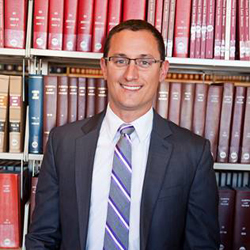 Attorney Joblin C. Younger is the founder of the Law Office of Joblin C. Younger, P.C., concentrating his practice in the areas of estate and trust planning and administration, guardianship and conservatorship proceedings, business planning, real estate conveyancing, and tax matters and disputes.
Prior to founding the firm, Joblin was Senior Associate of Estate Planning & Administration at Pabian & Russell, LLC in Boston, and before that, Senior Associate & Manager of Taxation, Trusts and Estates Administration Department at Cushing & Dolan, P.C. in Waltham. Joblin earned his LL.M. in Taxation from the Boston University School of Law in 2014, Juris Doctor from Suffolk University Law School in 2010, and a Bachelor of Arts degree in Political Science from The City College of New York in 2005. While at Suffolk Law, Joblin clerked for the Honorable David A. Mills of the Massachusetts Appeals Court and authored dozens of memoranda and bench decisions.
Joblin has deep roots in Beverly. He and his twin brother were born at Beverly Hospital and branches of his family have lived in Beverly for many generations. One branch (Cohn) owned and operated Alcon's Department Store, another branch (Hayes/Maihos) maintained Lynch Park for decades, and the Youngers have been members of Temple B'Nai Abraham on East Lothrop Street for many generations.
Joblin serves as Public Administrator of Suffolk County, having been appointed by Governor Patrick and confirmed by the Governor's Council, and is designated as a "Rising Star" by Super Lawyers Magazine (top 2.5% of lawyers in Massachusetts).